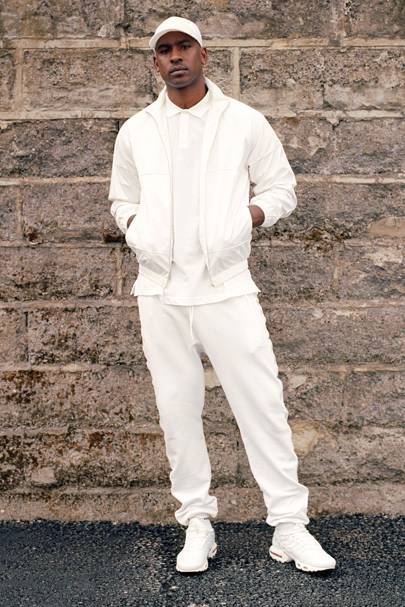 Skepta is a 33 year old English rapper, grime artist, songwriter and record producer of Nigerian descent. He is also the brother of musician JME. They are both from Tottenham and background Nigerian.
For my collection inspiration, I viewed Skepta's music videos and sketched out a couple of outfits which I think Skepta would wear. Here is one of the videos that I was interested in.
To collect more inspiration, I listened closely to his lyrics and was interested in knowing more about his personality so I looked at a couple of interviews.
GQ Magazine- Top 50 best dressed men in Britain
7. Skepta (Last year no 36)
"Skepta has convinced everyone he is a very important figure in UK culture and now he continues to push, educate and grow with this generation. Best-dressed should not just be about being able to buy the most expensive suit but about influencing a culture and for understanding how to bring a strong personal sense of view across." Astrid Andersen, designer.
GQ says: The grime star has been a fan of fashion since his rave days but refuses to be pigeon-holed and can pull-off anything from Supreme to Moschino.
http://www.gq-magazine.co.uk/gallery/50-best-dressed-men-in-britain-2016
My garment sketches targeted for Skepta:
I have designed comfortabe outfits , all in one-day and evening wear. Whether it is a day in OR out,or even a show/event.
---
Krept and Konan are an English hip hop/Grime duo from London. 26 year old Casyo Johnson known as "Krept", born 4th February 1990 from Gipsy Hill and 26 year old Karl Wilson "Konan", born 3 September 1989  from Thornton Heath. They have successfully won MOBO awards,UMA's, BET award, MTV award and many more. The two popular friends started making music in 2005 and started taking it seriously in 2009 followed with their first mixtape in 2010 featuring other ldn based rappers. After that they made another mixtape featuring more artists such as Wretch 32. They have also collabed with other popular artists like French Montana and Jeremih.
From watching this music video, you can automatically see that these two artists have a great fashion sense, as they have changed their outfits more than twice. The outfit that I loved most was the fur jackets, which gave them a prestigious/top guy appearance. You can tell that they are feeling overly comfortable in luxurious fabric (fur).
My design ideas for Krept and Konan:
---
Ramario Chavoy: Dancer/Model
"I would describe my style as eclectic because I don't have one set style it literally changes everyday."
"I find the majority of my clothes at Cow but also online places such as Ebay and other independent designers like Jade Clark, Hyena and Kokon To Zai.."
https://www.instagram.com/ramariochevoy/?hl=en
http://www.wearecow.com/blog/meet-the-team-ramario-chevoy/
http://spindlemagazine.com/2015/09/spindle-london-fashion-week-day-4/
http://www.omirithomas.com/2014/11/london-fashion-week-ss15-street-style.html
http://wearthefrocks.blogspot.co.uk/2013/12/interview-ramario-chevoy.html
My design idea for Ramario:
I decided to design a long jacket for Ramario as I believe he likes to wear things that are outstanding and original. The jacket zips up to the nose/mouth, giving it a unusual look. I was not sure of what colour to do so I started of with just black and then foud some fabric samples for inspiration.
---